Summer is in full swing, the water temperatures are rising and the Smallmouth are continuing to be active. Anglers fishing farther north are finding cooler water temperatures and bass. Summertime Smallies can be very active at times, especially with the right weather conditions . Stronger winds push bass up shallow, which allows fisherman to find fish with ease compared to fishing deeper water, which makes it hard to predict what areas the fish are feeding and moving through. One thing to keep in mind when bass fishing is more times then not they relate towards structure and shorelines. Working rock piles along shorelines, breaks and rock bottoms will almost always produce Smallmouth bass every time. Warm weather is strongly approaching for the next few weeks.
Targeting these fish early in the morning and evening hours will produce the most fish, seeing as the sun is not beating down, thus increasing water temperatures. Fishing on windy days can be a big turn off for many anglers, but the upside to fishing windy days is that it brings the bass into shallow water and also brings up sediment along with bait fish and feed.
Casting rattle baits, plastics and spinners have shown great success on the water, working around 5-12 feet of water. Always keep in mind that bass fishing and success will change day to day, and one will have to compensate for water temperatures, weather conditions, and the overall time of day when bass are most active and most importantly their location. Bass fishing will only get better from this point on, especially during the fall months where the Smallmouth are continuously feeding and putting on weight for the upcoming cold winter months. Bass feeding patterns will change as the months go on, do not limit yourself with tackle and concentrating on one specific bait. There are all types of lures and baits for all applications of bass fishing. If you are finding yourself in a lull, try switching over to a different bait. When casting it's very important to vary your retrieval speed when retrieving your baits, along with incorporating a pause in between retrieves.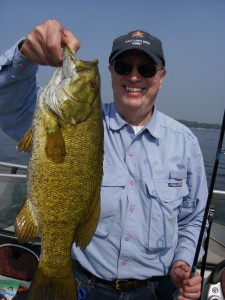 Many can say that spring fishing for Smallies has always been a favorite time of the year for many anglers, but by putting in a little extra effort, fishermen can have great success targeting summer time Smallmouth. Using live bait, such as night crawlers and leeches, can also be effective for summer time bass-working within a few feet of the bottom floor. Working baits with in different parts of the water column can also factor into hooking into these fish. Remember that bass are always on the move, and are always in different spots and making different transitions as seasons come and go during the year. Good Luck fishing and always be sure to take precaution while taking to the water, whether it be rough water conditions or dark skies.
Contributed by Aaron Pribyl